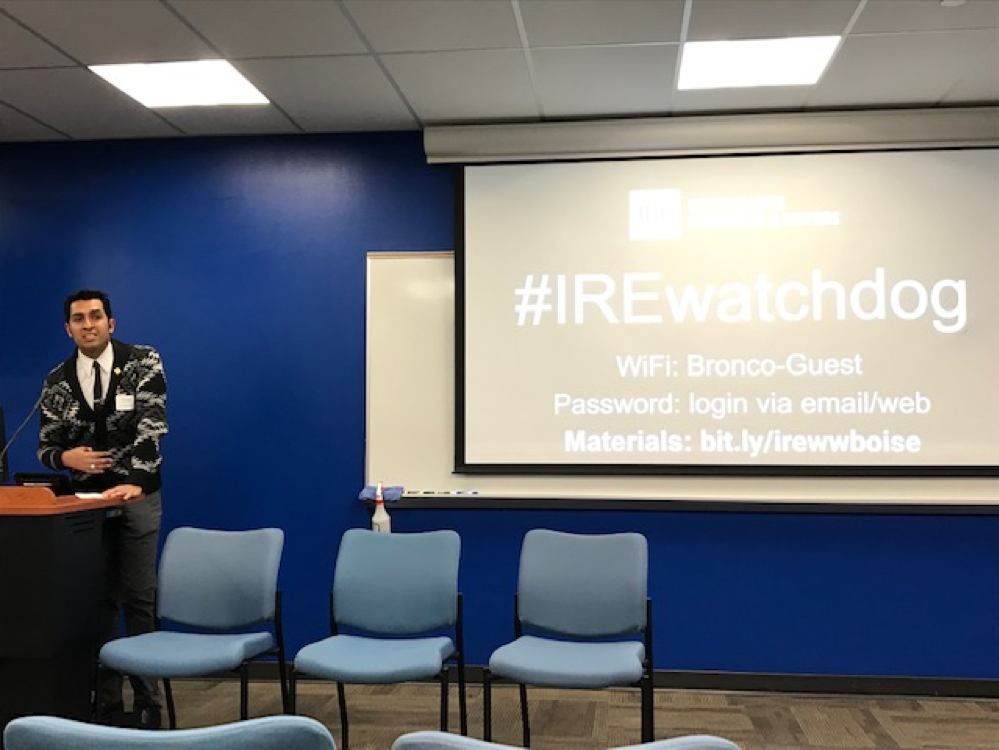 On a late September weekend, Boise State Public Radio hosted a training workshop by IRE, the Investigative Reporters & Editors. Earlier in the week, IRE had provided the radio team with "Total Newsroom Training," a two-day intensive into data journalism led by Francisco Vara-Orta of Texas. The weekend workshop, however, was open to all Idaho journalists and 65 attended on that Saturday.

Vara-Orta began the day by introducing Mary Hudetz (AP New Mexico), Les Zaitz (Malhuer Enterprise) and Cynthia Sewell (Idaho Statesman), who talked about developing an investigative mindset. Next, the Press Club's Melissa Davlin (Idaho Public Television) and Deb Grasham (Givens Pursley LLP) were joined by Nicole Foy (Idaho Statesman) for a strategy session on crafting public records requests.

Ken Armstrong (ProPublica), a multiple Pulitzer Prize winner, talked about how his approach to sourcing has changed over the years. He relaxed his early-career cautious view of sources "with axes to grind" and instead is now pushing journalists to feel free to meet with the outspoken activists, but to sharpen a reporter's own internal filter. He also adapted his earlier narrow view of sharing information with sources before publication, and is now more willing, such as in regard to victims in his stories who may be re-injured upon reading it. His reporting led to the current Netflix series, "Unbelievable." Afterwards, he was joined by Mary Hudetz for a session called "the art of the investigative interview." Listening, patience and gaining trust were pillars of their advice.

Vara-Orta concluded Saturday's workshop with a survey of the changing landscape of social media, which provides both opportunities but also challenges for journalists. He also led the Sunday workshop, which was a deep dive into data journalism. Vara-Orta shared upcoming training opportunities for Idaho journalists and encouraged the transformation of our work to take better advantage of data visualization and to make stronger use of statistics in our stories.

Tom Michael is the general manager at Boise State Public Radio, and is a member of the Idaho Press Club board.